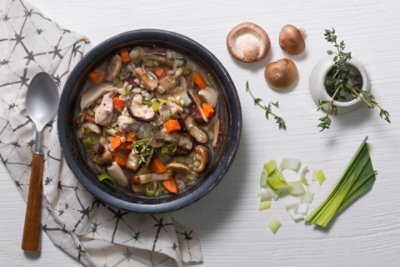 Chicken, Barley & Mushroom Soup
This healthy chicken soup recipe is chock-full of sturdy root vegetables and whole-grain barley. You can use any combination of dried and fresh mushrooms here. The soup will thicken as it sits on the stove—thin it as needed with more broth or water.
1 hour, 45 mins
Total cook time
Total original price
* Estimated price based on adding all ingredients to cart.
Main Ingredients
1 ounce dried shiitake mushrooms,
2 cups boiling water,
2 tablespoons extra-virgin olive oil,
3 medium leeks, , white and light green parts only, washed and coarsely chopped
3 cloves garlic, , chopped
2 medium carrots, , chopped
8 ounces fresh shiitake mushrooms, , stems removed, caps coarsely chopped
8 ounces white mushrooms, , sliced
1 teaspoon salt,
Coarsely ground pepper to taste,
1 pound boneless, skinless chicken thighs, , trimmed and cut into 1/4-inch pieces
6 cups low-sodium chicken broth,
½ cup pearl barley,
1 tablespoon minced fresh thyme or 1 teaspoon dried,
1 teaspoon sherry vinegar,
Cooking Instructions
Step 1
Soak dried shiitakes in boiling water for 20 minutes. Strain through a fine-mesh sieve and reserve the liquid. Squeeze the mushrooms to remove excess liquid, then dice.
Step 2
Meanwhile, heat oil in a large pot over medium heat. Add leeks and garlic; cook, stirring, until very soft, about 4 minutes. Add carrots, fresh shiitakes, white mushrooms, salt and pepper; cook, stirring, until the vegetables start to soften, 3 to 4 minutes. Add chicken and cook, stirring, until it is no longer pink on the outside, about 4 minutes.
Step 3
Add broth, barley, thyme, the reserved soaking liquid and chopped soaked mushrooms. Increase heat to high and bring to a simmer. Reduce heat to medium-low, partially cover and simmer until the barley is tender, about 50 minutes. Stir in vinegar.
All recipe ingredients should be cooked to a safe internal temperature according to USDA guidelines. After preparing a recipe, please store any leftovers in the refrigerator.