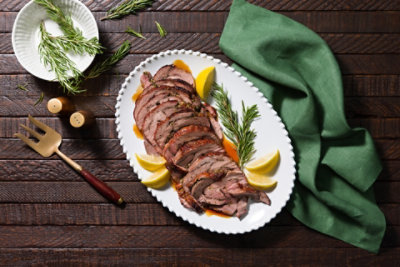 Herb-Roasted Leg of Lamb
Stuffed with herbs and rubbed with black pepper, this classic preparation makes a stunning centerpiece at any a special occasion meal.
2 hour, 30 mins
Total cook time
Total original price
* Estimated price based on adding all ingredients to cart.
Main Ingredients
pound boneless leg of lamb butterflied,
4 tablespoons extra-virgin olive oil, divided,
4 cloves garlic, minced,
2 chopped fresh mint,
1 chopped fresh rosemary,
1 lemon zest,
2 kosher salt, divided,
¾ black pepper, divided,
Cooking Instructions
Step 1
Let lamb sit at room temperature for 45 minutes before placing in oven. Preheat oven to 400°F.
Step 2
Combine 3 tablespoons oil, garlic, mint, rosemary, lemon zest, 1 teaspoon salt and 1/2 teaspoon pepper in a bowl. Place lamb on a cutting board, butterflied side up. Rub mixture on entire inside surface of the lamb. Roll lamb tightly and tie several times crosswise and once lengthwise with butcher string to secure.
Step 3
Place lamb on a rimmed baking sheet fitted with a wire rack. Rub lamb with remaining 1 tablespoon oil and season with remaining 1 teaspoon salt and 1/4 teaspoon pepper. Roast for 1 hour 30 minutes to 1 hour 45 minutes or until temperature reaches 145°F on an instant-read thermometer. Let rest 15 minutes, then slice crosswise.
All recipe ingredients should be cooked to a safe internal temperature according to USDA guidelines. After preparing a recipe, please store any leftovers in the refrigerator.