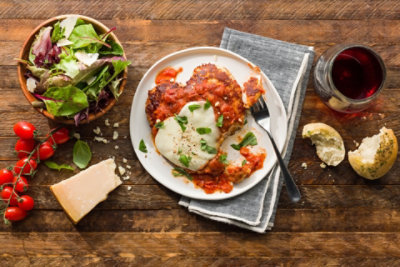 Keto Chicken Parmesan
​Keep your keto lifestyle going even through Valentine's Day with this delicious chicken entrée! Even though you're sticking with your goals, the two cheeses with keep you satisfied while you celebrate the holiday.
Total original price
* Estimated price based on adding all ingredients to cart.
Main Ingredients
2 8-ounce chicken breasts, butterflied
1 egg, beaten
1/4 teaspoon ground black pepper
1/4 teaspoon garlic powder
1/2 teaspoon Italian seasoning
2/3 cup grated parmesan cheese
1/3 cup almond flour
1 tablespoon butter
1/2 cup marinara sauce
4 ounces fresh mozzarella, sliced into thin slices
Cooking Instructions
Step 1
In a pie plate, whisk to combine the egg, garlic powder, pepper and Italian seasoning. In a separate pie plate stir the parmesan and almond flour together. Coat the chicken with the egg mixture and then with the parmesan mix. Let rest in fridge for 10 minutes.
Step 2
Preheat oven to 375°. On the stove top, preheat a nonstick sauté pan over medium heat.
Step 3
Add butter to heated pan and evenly distribute. Cook chicken for 3 minutes. Turn and top with marinara and mozzarella. Cook for additional 3 minutes then place pan in oven for 2-3 minutes until cheese is melted and internal temperature of 165° is reached.
Step 4 :: Helpful Hints
To butterfly the chicken breast, place on a cutting board with the flat side down. Place the palm of your hand on top of the breast. Using a sharp knife, slowly cut evenly and horizontally through the breast, leaving the opposite side still attached by about one half inch. Once opened, the natural "heart shape" is revealed.
Step 5 :: Helpful Hints
For this recipe, air chilled chicken was used. The breasts are naturally around 8 ounces each, uniform shape, and taste delicious!
All recipe ingredients should be cooked to a safe internal temperature according to USDA guidelines. After preparing a recipe, please store any leftovers in the refrigerator.