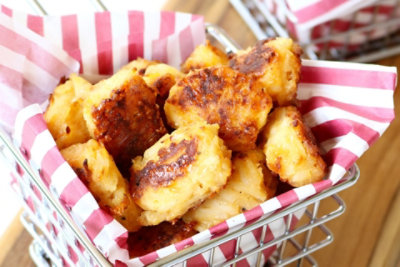 Oven Baked Parm Tots
Who doesn't love a tater tot? Our version is baked, not fried, and contains ricotta and Parmesan cheese. Yum! You won't find a more flavorful tot anywhere. These are sure to be an instant hit!
Total original price
* Estimated price based on adding all ingredients to cart.
Main Ingredients
1/2 cup Lucerne® part-skim ricotta cheese
1 egg white (about 2 tablespoons)
1/4 teaspoon smoked paprika
1/2 teaspoon Mrs. Dash Garlic & Herb (1/4 teaspoon garlic powder + 1/4 teaspoon black pepper can be substituted)
1/4 teaspoon seasoning salt
1 cup shredded Parmesan
4 cups Signature Kitchens™ Country Style Hash Browns
1 tablespoon canola oil + canola cooking spray
Cooking Instructions
Step 1
Preheat oven to 425 degrees. Coat a nonstick jelly roll pan (or similar) with a tablespoon of canola oil using a silicon brush.
Step 2
In large mixing bowl, blend ricotta cheese with egg white, smoked paprika, Mrs. Dash, and seasoning salt by hand or on low speed. Blend in the Parmesan cheese then the shredded potatoes by hand or on low speed.
Step 3
Shape about 1 tablespoon of the tot mixture into individual tater tots. Evenly space the tots on the prepared baking sheet. Generously coat the tops with canola cooking spray then turn them over and coat the other side with a little more spray.
Step 4
Bake for 30 minutes or until golden brown and crispy, turning them over after about 20 minutes. Serve with choice of dipping sauce.
All recipe ingredients should be cooked to a safe internal temperature according to USDA guidelines. After preparing a recipe, please store any leftovers in the refrigerator.