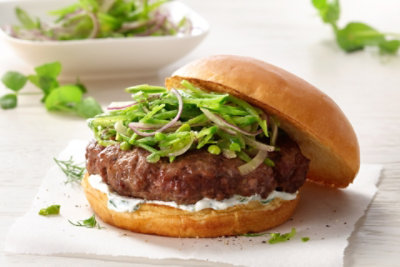 Spiced Lamb Burger with Snap Pea Slaw
Try this spring twist on the traditional burger using Open Nature® grass fed ground lamb. Topped with a fresh snap pea slaw and quick tzatziki sauce, this burger is perfect for a kick-off to grilling season!
Total original price
* Estimated price based on adding all ingredients to cart.
Ingredients
Burgers
1 teaspoon smoked paprika
1 teaspoon O Organics® Garlic Powder
Salt and Pepper
1 pound Open Nature® ground lamb
4 potato rolls, lightly toasted
Yogurt sauce
1/2 cup finely grated cucumber
1 cup thick Open Nature® whole milk Greek yogurt
1 tablespoon lemon juice
1/2 tablespoon O Organics® extra-virgin olive oil
1 garlic clove, grated
1/4 teaspoon sea salt
1 tablespoon chopped O Organics® dill
Snap Pea Slaw
2 tablespoons extra-virgin olive oil
6 ounces sugar snap peas, thinly sliced on a diagonal
1/2 small red onion, thinly sliced
Salt and Pepper
3 tablespoon fresh lemon juice
Cooking Instructions
Step 1 :: Make the yogurt sauce
Place the cucumber on a towel and gently squeeze out a bit of the excess water. In a medium bowl, combine the cucumber, yogurt, lemon juice, olive oil, garlic, salt, dill, and mint, if using. Chill until ready to use.
Step 2 :: Make and assemble the burgers
Mix paprika, cayenne, 1 1/2 teaspoon salt, and 1 teaspoon black pepper in a small bowl.
Step 3 :: Make and assemble the burgers
Shape lamb into 4 patties about 3/4" thick. Season with spice mixture on both sides.
Step 4 :: Make and assemble the burgers
Heat oil in a large skillet, preferably cast iron, over medium-high. Working in batches if needed, cook patties until underside is browned, 5–6 minutes. Turn and cook until browned on other side, 4–5 minutes for medium-rare. Transfer to a plate and let rest 10 minutes.
Step 5 :: Make Snap Pea Slaw
Meanwhile, toss snap peas, onion, lemon juice, and remaining 1/2 tsp. salt and 1/2 tsp. pepper in a medium bowl.
Step 6 :: Make Snap Pea Slaw
Generously spread yogurt sauce on cut sides of buns. Build each burger with a lamb patty and a mound of slaw. You will probably have extra slaw left over—serve it alongside.
All recipe ingredients should be cooked to a safe internal temperature according to USDA guidelines. After preparing a recipe, please store any leftovers in the refrigerator.