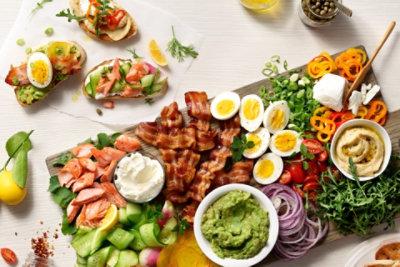 Spring Brunch Board
You can't beat this Spring Brunch Board! With something for everyone, Open Nature® and O Organics® products help you build the perfect toast creation! Whether you want to stick to The "Classic" with avocado, egg, and bacon or go for hearty "Slammin' Salmon" with cream cheese, salmon, and capers, there are options to please any crowd.
Total original price
* Estimated price based on adding all ingredients to cart.
Main Ingredients
8 slices of toasted O Organics® Italian County Bread
2 avocados, coursely mashed with a squeeze of lemon juice
1/2 cup of O Organics® cream cheese
1 4.9 ounce container O Organics® capers
1 cup O Organics® Hummus
4 ounces O Organics® Goat Cheese
8 ounce Open Nature® Salmon Fillet
8 slices of Open Nature® thick bacon, cooked according to package directions
4 hard Open Nature® boiled eggs, peeled and halved
1 watermelon radish, thinly sliced
1 small cucumber, thinly sliced
1 raw golden beet, thinly sliced
1 red onion, thinly sliced
5-6 mini bell peppers O Organics®, thinly sliced
handful of O Organics® grape tomatoes, halved
handful of O Organics® baby arugula
4 green onions, thinly sliced
Crushed Red Pepper Flakes, Salt, and Pepper to taste
Cooking Instructions
Step 1
Preheat oven to 425 degrees
Step 2
Drizzle salmon with oil olive and season with salt and pepper.
Step 3
Bake for 10-12 minutes
Step 4
When cool enough to handle, flake gently
Step 5
To assemble the board, arrange bowls of mashed avocado, cream cheese, hummus, and capers on large serving board.
Step 6
Arrange toast, bacon, eggs, smoked salmon, goat cheese, beets, cucumber, tomatos, bell pepper, and radishes on serving board. Scatter the remaining ingredients around the board, filling in all the gaps. Allow guests to assemble their toast. ENJOY!
Step 7 :: To Assemble "The Classic"
Spread mashed avocado on toast, top with a few slices of beets, a slice of bacon, half an egg, and top with scallions, crushed red pepper, salt, and pepper to taste.
Step 8 :: To Assemble "The Slammin' Salmon"
Spread cream cheese on toast, top with a few slices of radish, cucumber, 2 ounces salmon, 1/2 teaspoon capers, and torn dill. Season with salt and pepper to taste.
Step 9 :: To Assemble "The Greek"
Spread hummus on toast, top with goat cheese, a few tomato halves, slices of mini bell pepper, and baby argulua. Drizzle with olive oil and season with salt and pepper to taste.
All recipe ingredients should be cooked to a safe internal temperature according to USDA guidelines. After preparing a recipe, please store any leftovers in the refrigerator.