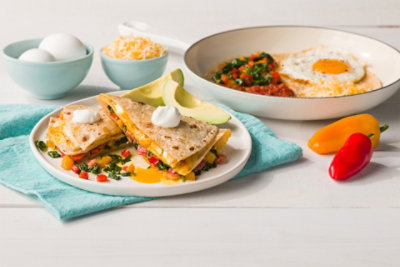 Breakfast Tortilla Wrap Hack
Solve your morning meal time with this savory, cheesy, tortilla wrap breakfast hack!
Total original price
* Estimated price based on adding all ingredients to cart.
Main
1 whole wheat tortilla wrap
1/4 cup shredded Lucerne® 4 Cheese Mexican Style
1 tablespoon Lucerne® sour cream
Vegetables of choice (sauteed spinach and mushrooms, caramelized onions, avocado slices, sliced tomatoes, etc.)
1 large Lucerne® egg (fried or poached)
1 teaspoon Lucerne® butter, sweet cream
Cooking Instructions
Step 1
Lay tortilla on a cutting board and make a cut from the right side of the tortilla to the center. Sprinkle cheese into the upper right quarter of the tortilla and spread the sour cream or hot sauce over the lower right quarter. Then place the vegetable of choice in the lower left quarter of the tortilla and place the fried egg in the upper left quarter.
Step 2
Start heating a nonstick skillet over medium heat. Fold the lower right quarter of the tortilla over the lower left quarter. Then fold that upward onto the upper left quarter of the tortilla. Finish by folding this over the cheese in the last quarter.
Step 3
Place the butter or olive oil onto the skillet and when melted or hot, place the tortilla wrap on top and quickly flip it over to coat the other side. When the underside is nicely browned, flip it over to brown the other side (about 2 minutes per side). Serve & Enjoy!
Step 4 :: Helpful Hints
Substitute butter with 1/2 teaspoon O Organics® Extra Virgin Olive oil
All recipe ingredients should be cooked to a safe internal temperature according to USDA guidelines. After preparing a recipe, please store any leftovers in the refrigerator.