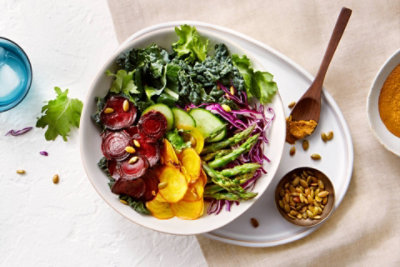 Vegan Power Bowl
This vegan lunch bowl is fully loaded with energizing veggies and will keep you powered up all day. Packed with vitamins and minerals and light on calories and carbs, it's a great meal for people committed to clean eating.
Total original price
* Estimated price based on adding all ingredients to cart.
for the sauce
2 tablespoons tahini
2 tablespoons hot water
1/2 teaspoon curry powder
1 teaspoon O Organics™ 100% pure maple syrup
1 tablespoon fresh squeezed lemon juice
1 pinch sea salt
for the bowl
2 cups torn Lacinato kale (also called dinosaur kale)
1 cup unpeeled roughly chopped or sliced red & golden beets
10 asparagus spears (ends removed & sliced in half)
1 cup very loosely packed shredded red cabbage
1/2 English cucumber (peeled into ribbons with vegetable peeler)
1 1/2 teaspoons O Organics™ olive oil
to sprinkle on top
2 teaspoons roasted pepitas (pumpkin seeds)
Cooking Instructions
Step 1
Heat a large sautée pan over medium high. When pan is hot, add beets to one side of the pan and drizzle with 1/2 teaspoon of olive oil. Only stir enough so the beets do not burn but let them get a good sear. After 5 minutes, add asparagus to the other side of the pan, drizzling with 1/2 teaspoon olive oil and sprinkling with sea salt. Sautée asparagus for 5 minutes. It should be slightly crispy. Remove beets and asparagus and set aside. 
Step 2
Return sautée pan to stove and turn heat to medium low. Add another 1/2 teaspoon olive oil to pan and sautée chopped kale for 2-3 minutes, just until slightly wilted, but still with plenty of texture. 
Step 3
You are ready to start building the bowls! Add around each bowl add half of each ingredient. The beets, seared asparagus, shredded red cabbage, sautéed kale and cucumber ribbons. 
Step 4
In a small mug, whisk sauce ingredients with a fork: tahini, hot water, curry, maple syrup, lemon juice, and sea salt. Add a little more hot water or lemon juice if sauce is too thick. Drizzle the sauce onto each bowl, or scoop some right into the middle each bowl. Sprinkle with roasted pumpkin seeds.
All recipe ingredients should be cooked to a safe internal temperature according to USDA guidelines. After preparing a recipe, please store any leftovers in the refrigerator.