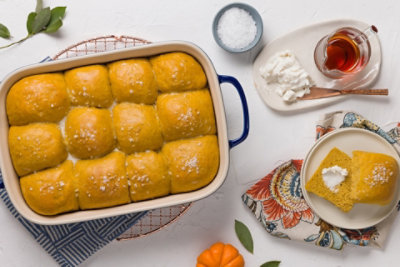 Vegan Pumpkin Rolls
Vegan Pumpkin Rolls
2 hour, 20 mins
Total cook time
Total original price
* Estimated price based on adding all ingredients to cart.
Main
1/2 cup warm water
1 packet active dry yeast
2 tablespoons pure maple syrup, plus a little more
2 tablespoons coconut sugar or dried cane sugar
1/2 teaspoon sea salt, plus a little more
1/2 cup vegan butter or coconut oil, melted
1 cup pumpkin puree
1 1/2 teaspoons pumpkin pie spice
3 cups all-purpose flour, plus a little more
Cooking Instructions
Step 1
Add warm water, maple syrup, coconut sugar and yeast to a medium bowl. Stir to dissolve yeast. Let the mixture sit for 5 minutes until it bubbles to activate yeast.
Step 2
Add salt, vegan butter, pumpkin, and pumpkin pie spice. Add in 1 cup of flour, mixing well with either a wooden spoon or using a dough hook on a large mixer. Add and mix on low (or beat well with a wooden spoon) for about 2 minutes until dough comes together and starts to pull away from the sides of the bowl. (Dough may still stick to the bottom of the bowl).
Step 3
Dump dough out onto a floured surface and knead until dough is soft and elastic. Place dough back in the bowl and cover with a paper towel. Leave dough in a warm area of the kitchen to rise until dough doubles in size (about 1 - 1 1/2 hours).
Step 4
Once dough has risen, divide it into 12 even parts, and shape each part into a smooth ball, tucking in the edges of the dough underneath itself. Place dough balls seam-side-down into a lightly oiled baking dish. Place baking dish back in a warm area of the kitchen for the rolls to rise again for 45 minutes, until they have risen 50%.
Step 5
Bake rolls at 350º for 20 - 24 minutes until rolls are cooked through.
Step 6
Remove rolls and brush with vegan butter and a little pure maple syrup. Sprinkle with sea salt. Serve immediately.
Step 7 :: Helpful Hints
If rolls brown too quickly before being cooked through, cover with foil and finish baking. - Rolls make great sliders for a harvest turkey-cheese-arugula sandwich.
All recipe ingredients should be cooked to a safe internal temperature according to USDA guidelines. After preparing a recipe, please store any leftovers in the refrigerator.