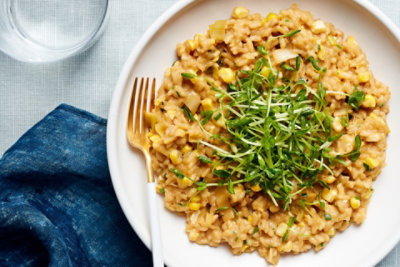 Creamy Corn Risotto with Mascarpone and Pea Shoots
This time of year, corn is the star of the show. Chef Michelle is highlighting the colorful vegetable in this extra-creamy risotto. Her secret? Grating corn cobs into a milky purée to capitalize on the veggie's natural moisture and starches, plus adding whole kernels for sweetness. Rich, tangy mascarpone and salty Parmesan give the dish its craveable texture, while thinly sliced chives and simply dressed pea shoots add a burst of bright green. This is a taste of late summer at its finest.
Total original price
* Estimated price based on adding all ingredients to cart.
Main Ingredients
1 1/2 pints vegetable stock
1/2 ounce chives
2 leeks
1 lemon
4 ears corns
1/4 cup unsalted butter
2 cups Arborio rice
1/2 cup white wine
1 ounce pea shoots
2 tablespoons mascarpone cheese
3 ounces grated Parmesan cheese
olive oil
kosher salt
black pepper
Cooking Instructions
Step 1
Place vegetable stock and 1.25 cups water in a small pot and bring to a boil over high heat, then remove from heat and cover to keep warm. Meanwhile, if leeks arrived with dark green tops, trim and discard them. Halve leeks lengthwise, then cut crosswise into .25-inch half-moons. Place in a medium bowl of cold water, separating pieces with your fingers, to let dirt sink to bottom. Rinse chives and thinly slice. Halve lemon.
Step 2
Shuck corn, discarding husks and silk. Using the large holes of a box grater, grate 1 ear over a medium bowl. Slice off whole kernels from remaining cobs and add to bowl. Try laying the cobs flat on your cutting board, rather than standing them on their ends, to safely cut 1 side at a time.
Step 3
Remove leeks from water (see Recipe Tip). Pat dry with paper towel. Rinse bowl from leeks, pat dry with paper towel, and set aside until Step 5. Heat half of butter in a large pot over medium heat. When butter is foamy, add leeks and sauté, stirring, until softened, 5 minutes. Increase heat to medium high and add rice to pot. Cook, stirring frequently, until toasted and translucent, 2-3 minutes more (see Recipe Tip).
Step 4
Stir wine into pot with toasted rice and cook until liquid is mostly absorbed, 1 minute (see Recipe Tip). Pour in warm vegetable stock and season with .5 teaspoon salt. Increase heat to high and bring to a boil, then reduce heat to medium low and simmer, stirring occasionally, until liquid is almost fully absorbed and rice is mostly tender, about 12 minutes. 
Step 5
While rice cooks, rinse pea shoots and cut crosswise into 2-inch pieces.  In medium bowl from leeks, combine 1 squeeze lemon juice and 1 tablespoon olive oil. Season with .125 teaspoon salt and pepper as desired and whisk to combine. Add pea shoots and half of chives to bowl with dressing. Wait to toss until ready to serve. Use remaining lemon to brighten a glass of water.
Step 6
Stir grated corn and whole corn kernels into pot with risotto over medium-low heat and cook until bright yellow and creamy, 3-4 minutes. Remove from heat. Stir in mascarpone, Parmesan, remaining chives, and remaining butter. Taste and add salt and pepper. Toss pea shoots. Divide risotto among serving bowls. Garnish with pea shoots. Dig in!
All recipe ingredients should be cooked to a safe internal temperature according to USDA guidelines. After preparing a recipe, please store any leftovers in the refrigerator.