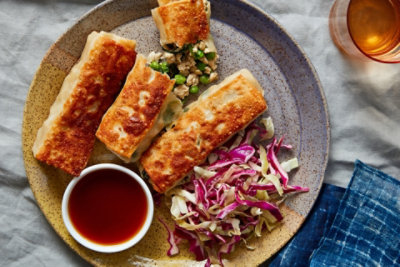 Pork Egg Rolls with Crunchy Slaw and Sweet-and-Sour Duck Sauce
Who doesn't love adding on a side of egg rolls when ordering Chinese takeout? Since we previously sent this hit recipe with chicken, here, we're filling the golden parcels with garlicky pork, peas, and sautéed spinach. Instead of deep-frying, we're pan-searing them for that same crispy-crunchy texture. Homemade duck sauce, made with apricot jam, soy sauce, and tangy rice wine vinegar, strikes the perfect balance of sweet and sour for dipping.
Total original price
* Estimated price based on adding all ingredients to cart.
Main Ingredients
12 egg roll wrappers
5 ounces baby spinach
2 cloves garlic
2 cups shredded green cabbage
2 cups shredded red cabbage
1 tablespoon agave
3 tablespoons sesame oil
1/4 cup rice wine vinegar
1 1/4 pounds ground pork
1/2 teaspoon ground ginger
1/4 cup soy sauce
1 cup peas
2 1/2 ounces apricot preserves
kosher salt
black pepper
Cooking Instructions
Step 1
Remove egg roll wrappers from refrigerator and allow to come to room temperature (see Recipe Tip). Rinse spinach and roughly chop. Mince garlic. Place slaw mix in a large bowl and massage with your hands to soften, about 30 seconds. Add agave, 1.5 tablespoons sesame oil, 2.5 tablespoons rice wine vinegar, .5 teaspoon salt, and pepper as desired to bowl with slaw mix, and toss to coat. Set aside.
Step 2
Pat pork dry with paper towel. Heat remaining sesame oil in a large nonstick pan over medium-high heat. When oil is shimmering, add pork and ground ginger. Cook, breaking up meat, until browned, about 5 minutes. Add garlic and cook until fragrant, about 2 minutes more.
Step 3
In a small bowl, reserve 1 tablespoon soy sauce for making duck sauce and set aside. Add peas, spinach, and remaining soy sauce to pan with pork, still over medium-high heat. Cook, stirring, until spinach is wilted, about 2 minutes. Season with .5 teaspoon salt and black pepper as desired, then remove pan from heat and set aside to cool slightly.   
Step 4
Fill a small bowl with warm water (and grab a hungry companion to help with the rolling!). Place 1 wrapper on a clean, dry surface. Scoop .33 cup filling onto bottom half of wrapper, leaving a 1-inch border on left and right sides. Using your fingers, dab water along the wrapper's borders. Fold in sides, then roll up tightly away from you to seal, finishing seam-side down. Repeat with remaining wrappers and filling, reserving any extra filling for serving on the side.
Step 5
Wipe pan from pork clean and heat 1 tablespoon canola oil over medium-high heat. When oil is shimmering, add egg rolls seam-side down, working in batches and adding more oil as needed. Sear until golden on bottom, about 3 minutes. Flip, then carefully add 2 tablespoons water around egg rolls in pan (see Recipe Tip). Cover pan and continue cooking until egg rolls are cooked through and wrappers are translucent, 2-3 minutes more.
Step 6
While egg rolls cook, add apricot jam and remaining rice wine vinegar to bowl with reserved soy sauce. Whisk to combine to make duck sauce. Divide crunchy slaw and pork egg rolls among plates and serve with duck sauce for dipping. Dig in!
All recipe ingredients should be cooked to a safe internal temperature according to USDA guidelines. After preparing a recipe, please store any leftovers in the refrigerator.