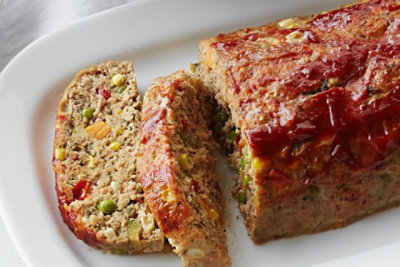 Turkey & Vegetable Meatloaf
This healthy meatloaf recipe uses ground turkey—which has a higher percentage of healthy unsaturated fat compared to ground beef—and it's loaded with colorful vegetables. You'll also love this recipe because it makes two loaves. That means you can eat one the night you bake it and save the other for the next day to enjoy as sandwiches (hot or cold, your choice) or set atop a salad of vinaigrette-dressed mixed greens (your own homey version of a country pâté).
1 hour, 30 mins
Total cook time
Total original price
* Estimated price based on adding all ingredients to cart.
Main Ingredients
2 tablespoons extra-virgin olive oil,
¾ cup finely diced sweet potato,
⅓ cup minced shallots,
½ cup finely diced red bell pepper,
½ cup finely diced zucchini,
¾ cup corn, fresh or frozen,
¾ cup peas, fresh or frozen,
1 clove garlic, , minced
¾ teaspoon salt,
½ teaspoon ground pepper,
2 large eggs,
½ cup low-fat milk,
¾ cup whole-wheat panko breadcrumbs,
¼ cup minced fresh parsley,
2 tablespoons Worcestershire sauce,
1 teaspoon chopped fresh thyme or 1/2 teaspoon dried,
Pinch of cayenne pepper,
2 pounds 5%-lean ground turkey,
¼ cup ketchup,
Cooking Instructions
Step 1
Preheat oven to 350°F. Coat a rimmed baking sheet with nonstick cooking spray.
Step 2
Heat oil in a large skillet over medium-high heat. Add sweet potato and shallots and cook, stirring occasionally, for 3 minutes. Add bell pepper and zucchini; cook, stirring, until the vegetables are starting to soften, 2 to 3 minutes. Add corn, peas and garlic; cook, stirring, for 2 minutes more. Stir in salt and pepper. Turn the mixture onto a plate and cool for 10 minutes.
Step 3
Whisk eggs in a large bowl; whisk in milk, breadcrumbs, parsley, Worcestershire, thyme and cayenne. Stir in the cooled vegetables. Add turkey and gently but thoroughly mix with your hands or a spoon to combine. Shape the mixture into two loaves (about 6 by 3 inches each) on the prepared baking sheet. Brush the top of each loaf with half the ketchup.
Step 4
Bake until an instant-read thermometer inserted into the center registers at least 165°F, about 40 minutes. Let stand for 15 minutes before slicing.
All recipe ingredients should be cooked to a safe internal temperature according to USDA guidelines. After preparing a recipe, please store any leftovers in the refrigerator.