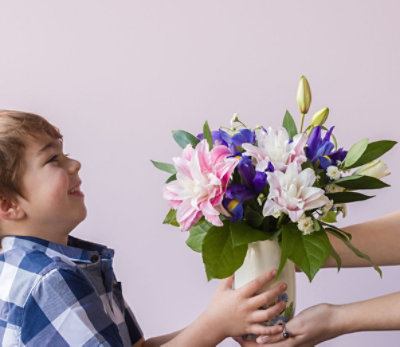 Thankful For All Types of Moms
We love ALL moms, from pet moms to stepmoms and new moms to grand moms. Whether the moms in your life love flowers, chocolates, mimosas or merlot, we have every fresh bite and fun memory covered.
Are you looking for inspiration? Here are three special ways to show you care.
1. Fire up the grill. Reel in the catch of the day, pick up something plant-based or reach for the meat. Can't decide? Make Mother's Day dinner magical with a surf and turf feast for all. Score bonus points by picking up her favorite wine or crafting a delicious charcuterie board for snacking. If you prefer to leave the prep to us, we're happy to assemble the perfect party platter.
2. Arrange an at-home spa day. Cue up her favorite relaxing playlist and set the tone with candles, bubbly and bubble bath. Scoop up rose petals or a fresh bouquet to take things up a notch!
3. Serve breakfast in bed. Surprise mom with the perfect pancakes or whip up a fresh omelet. If you'd rather leave the cooking to us, stop by our bakery for a wide selection of baked goods, like fresh-baked muffins, donuts and more. We'll prep the perfect treats, and you can take the credit.
P.S. If you need cards or gift cards, we've got those covered, too. Stop by your local Vons and pick up everything you need to make mom's day!