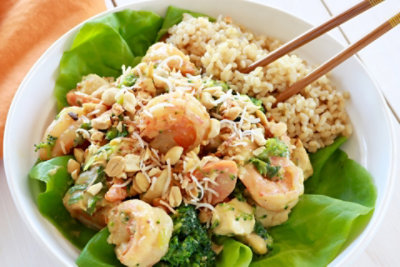 Bang Bang Shrimp & Chicken
Yes, you can recreate your favorite restaurant dishes at home for a fraction of the price! And better yet, you can adjust the recipe to taste and and to make it healthier. With or without modification, you'll find this Bang Bang Shrimp and Chicken irresistable.
Total original price
* Estimated price based on adding all ingredients to cart.
Main Ingredients
3/4 cup O Organics® whole milk (low fat or fat free half and half can be substituted)
2 Tbs Open Nature® Old Fashioned Creamy Peanut Butter
1 1/2 tsp coconut extract
1 Tbs Signature Kitchens® canola oil
10 ounces fresh or frozen large shrimp or prawns (deveined (tails on or off), uncooked (thaw in refrigerator if using frozen))
2 boneless, skinless raw O Organics® chicken breasts (cut into bite-size pieces)
1/2 cup thinly sliced green onions
3/4 tsp O Organics® curry powder (add more to taste)
3/4 tsp O Organics® ground cumin
2 tsp minced fresh ginger
1 tsp minced garlic
1 1/2 cups O Organics® broccoli florets (bite-size) (lightly micro-cooked or steamed)
1 1/2 cups carrot slices (cut diagonally) (lightly micro-cooked or steamed)
2-3 cups cooked O Organics® brown rice
Optional Garnish: chopped roasted peanuts and/or toasted flaked or shredded coconut
Cooking Instructions
Step 1
Begin cooking brown rice. Combine 3 tablespoons of milk with peanut butter in a 1 cup measure. Stir in the remaining milk and the coconut extract; set aside.
Step 2
Heat canola oil in 12" non-stick skillet over medium-high heat. Add chicken pieces and shrimp and stir-fry until cooked through and golden in color (about 6 minutes). Add green onions, curry, cumin, red pepper flakes (if desired), ginger and garlic and stir-fry an additional minute or two.
Step 3
Stir in broccoli florets, carrot slices and the milk mixture, reduce heat to simmer and let cook, covered, for about 2 minutes. Season with salt and pepper, if desired.
Step 4
Serve each portion of the chicken and shrimp mixture over about 3/4 cup of rice and sprinkle each serving with chopped peanut and/ or chopped fresh parsley, if desired.
All recipe ingredients should be cooked to a safe internal temperature according to USDA guidelines. After preparing a recipe, please store any leftovers in the refrigerator.